"BECAUSE YOU ARE NUMBER ONE!!!"
Read a few testimonials to learn how our clients feel.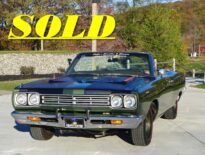 Frank Palazzo
Hello Jerry,
I apologize for being so late in delivering this testimonial to you but here it is:
I had been browsing the internet off and on for a special car from one model year in a particular body style and particular color for quite a while with no luck. One day I was scrolling down through a seemingly endless listing of that model year and at the very bottom, there it was, a 1969 Plymouth Road Runner Convertible in F-8 Forest Green. I was stunned. I started scrolling through the photos of the car which had reportedly been through a "nuts and bolts" restoration by an outfit called Coffee's Corvettes. That a Corvette shop would step into the "Dark Side" and restore a MOPAR seemed a bit odd, but car was gorgeous. I made "the phone call" and spoke to Jerry who came across as a very personable straight shooter. Car dealers always try to come across that way but in speaking to Jerry I was convinced he was the real deal. We negotiated the price for the car over the phone and via email. Having settled on a number that seemed fair for both of us, all that was left to do was go take a peek at it in person. We worked out a day we both would be available and I flew out from St. Louis to see the car armed with a three page list of items I wanted to check, from the top of the car to its bottom. Jerry was super accommodating and humored me as I went over the car and even put it up on his lift so I could check the bottom side. The car was stunning in person and everything I looked at was perfect. We completed the purchase on the spot but I'd spent so much time going over the car that I ran out of time and had to get to the airport for my return flight. On the way to the airport, courtesy of Jerry, I realized that though I saw the car driven around to the lift, I had never actually driven it myself! Oops! When the car arrived in St. Louis, I was excited to film the car backing out of the trailer. The truck driver started the car. It rumbled to life, and rumbled, and rumbled but it didn't come off the trailer. I poked my head in and discovered that the driver couldn't find reverse so I had the pleasure of driving it off myself. After I'd gotten my new pride and joy home I did find an issue with getting power to the taillights. Jerry and his guys did everything they could to help me walk through it to find and fix the issue. Ultimately it turned out to be a broken wire under that dash and a simple fix. Jerry and his guys could not have been more helpful via long distance.
Finally, what prompted me to finally compose this was the BEST IN SHOW AWARD the car earned at the National Museum of Transportation "Animal" Car Show this past weekend. Thanks again for a great restoration of a great car, Jerry, and for sticking with me to make sure it was fully functional. I'm very glad that you agreed to take a little walk on the MOPAR "Dark Side."
Best regards,
Frank Palazzo
314-749-3064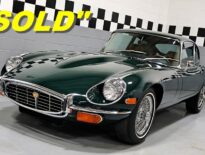 Ray From Florida
Jerry,
I took the Jaguar out for it's first run yesterday. Needless to say it ran flawlessly. The car was everything you said it is and more. From the perfect paint to the way the engine purrs and goes through the gears, this car is a real gem.
If I decide to buy another car from you, I won't waste money on an outside inspector again since you really tell it like it is.
Thanks again,
Ray
Florida
"On 4/3/23 Ray Shared This News"
Hi Jerry,
"Went to the All British Car show . Won first in class and was the best of all E Types . People loved the car!!!"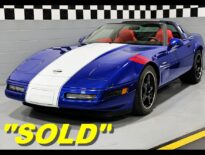 Cory From Maryland
Jerry - I am a little delinquent but, I wanted to let you know that I received the title and your note. Believe it or not, I just opened them today. I want to thank you for your patience with me and your professionalism throughout the process. You made this first time experience very comfortable. Looking forward to getting her registered and taking her on a "legal" ride (She did go on a non registered ride already.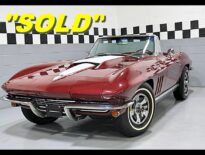 ROCKY JOHNSON
I highly recommend buying a car from Jerry at Coffee Corvettes. I bought a 66 Corvette sight unseen. Jerry coordinated shipping and when it arrived it was everything and more of what he said it would be. I wouldn't hesitate to buy a car from Jerry on his word alone.
Thanks Jerry.
Rocky Johnson , Seattle WA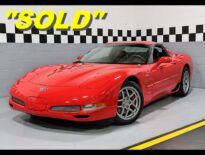 Steve Dyer From Virginia
"Doctor J, hope all is well."
I have a slight dilemma on my hands.
I absolutely love my Z06, sits in the middle of my other cars like a Prince.
Problem is, with such low miles, I'm hesitate in driving it.
Doc, what would you recommend I do?
Just having fun! Already put 250 miles on it.
Funny thing occurred while I had new tires installed. The owner of the business that maintains my cars looked puzzled and said " I don't understand this, it even smells new… how can that be"
"Doc, thanks again for making this the most enjoyable auto purchase I've ever had."
Your Virginia Buddy, Steve Dyer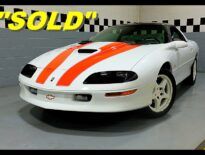 David Arruda
David Arruda
 2 days ago
My purchase of a '97 Chevy Camaro SS 30th anniversary edition was a smooth, straightforward process with Jerry. I'm leery of the more conventional car salesman but believe me when I tell you; the cars at Coffee's speak for themselves. This Camaro was no exception. Once I decided to purchase it ( immediately, after an out-of-state visit), the sales process was akin to buying a coffee( pun intended) at a Dunkin's.The delivery was done on my end and picked up a day early, but Coffee's was up to that challenge. Jerry himself was a true professional and very grateful....none of that " slick shadiness" stereotypical of your run of the mill salesman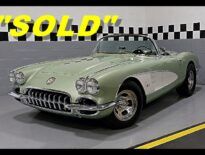 Terry Fisher
Jerry,
I just wanted to thank you for the great 1960 Corvette. I've wanted this body style for years and you made the buying experience over the top. You held the car for me for a week until I could get there to look at it. I'm sure you could have sold it easily before I got there, but you're a man of your word and I appreciate that. Thank you very much, and Happy Holidays. The next time I'm looking for a car, I will check out your inventory first.
Terry Fisher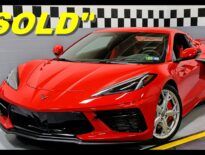 Glen And Sharon From Mississippi
"Thank y'all so much for selling me this super clean 2021 Stingray Red Convertible Corvette & making this 46 year old man's dream come true!!!"
"Y'all The Greatest!!!"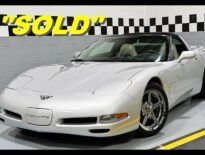 Jose From NY
Thank you very much Jerry & Diane for a great buying experience. You guys are the real deal. On my Quest for a quality c5 Corvette I discovered your Corvette and classic car dealership and it was god sent. You provided a wonderful and personal buying experience and gave me a great tour of your facility and the beautiful cars u have. It was a great introduction into the classic car world for me.I love my new C5 Corvette. She's beautiful and everyone loves her. Jerry you are the ultimate consummate car guy. From one car guy to another Life is short, Enjoy your ride. Thank you and may God Bless you Both.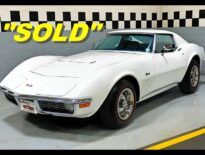 Allan And Lori
Jerry:
Please feel free to share our comments and reviews of his new "baby." I have to be honest, I was not a Corvette fan and Allan knew this. That is why his search for his retirement baby took over 4 years to come to an end. Allan would send me hundreds of pictures of cars weekly to rate to get my opinion. The majority of the pictures were vets, and i would just skip over them. I finally told him to buy whatever he wanted and not worry about if I would like it or not.
Then just a few weeks ago, he showed me pictures of the vet at Coffee's Vets. I looked at them with an open mind and I told him that I was pleasantly surprised that I liked it. Well that was all it took and the next think i know Allan is making arrangements to go and buy the car.
When it rolled up in front of the house, I was quite impressed. It was much nicer than i had anticipated. It shines like a new penny and looks very classy. I had to fold and admit that I liked it and I gave it a 10 out of 10. It is in pristine condition and really a beautiful car. It is a great addition to "our" family.
--
Lori Silcott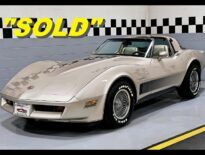 Greg From Kansas
Sorry, I haven't written sooner, still recuperating from bicep tendon surgery. It's just recently I've been able to take the 'Vette out for more than just a quick spin around town. I just retired October 30th, so now I have a bit more time on my hands to enjoy the new toy. Just wanted to let you know the 'Vette is settling into it's new home. Runs extremely well, fires up with no hesitation, just like it's saying "let's hit the road". Hard to believe this is an almost 40 year old vehicle.
First off, let me thank you & Diane for making this purchase so painless. I appreciate your professionalism & easy going demeanor. Everything went so smooth, from the initial phone call, to the final delivery. This was, by far, the easiest car purchase I've ever experienced.
Ya'll have a great Thanksgiving & a very Merry Christmas!
Greg Wassenberg
Salina, KS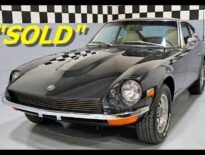 Win Rawson From Memphis
Jerry:
I love this car. It could not be more fun. It runs great and looks great. So many people stop and stare and many come talk to me about it. I am so glad I got it. You and your team made it so easy.
Thanks again!!
Win Rawson
General Counsel
Jim
Hi Jerry and Diane.
The delivery of the Corvette this morning went perfect. The driver was professional, careful and a very nice guy. This car is amazing and absolutely gorgeous. The entire transaction was by far the best vehicle purchase I've ever had. Thank you for making my lifelong dream come true.  
Jim Curran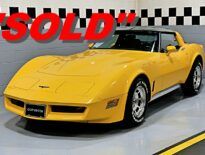 Tom And Debbie Kane
Dear Jerry & Diane
Thank you for helping me to make my daughter's Birthday one that she will never forget. The friendly atmosphere that you provide was a pleasure to experience. It was almost like visiting with family. I would recommend you to anyone who is looking for a classic Corvette of quality. Thank you again.
Tom & Debbie Kane
Tom From New Jersey
I purchased my 1996 Corvette Convertible Collectors Edition from Coffees Corvettes. This is a top notch dealership that strives on providing outstanding customer satisfaction. The cars they sell are a reflection of the high standard they hold themselves to. In addition to the A+ classics they sell, the facility is clean and a great place for Corvette and car enthusiasts to visit. When I first arrived at the automotive center for the first time, Jerry made me feel very welcome. No pressure, no games..just a genuine person who's passionate about Corvettes and classics. Jerry Coffee is an absolute pleasure to deal with, as is his wife Diane. It is evident that their business is built on honesty and integrity. I couldn't be happier with my 1996 Corvette, as it has exceeded my expectations. Thank you for selling me such an outstanding car and providing me with a fantastic buying experience! Tom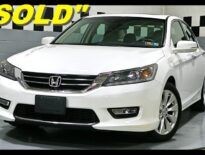 Bobby & Kelly Jones
Good morning Jerry, Hope you are doing well.
I wanted to drop you a note to tell you how much we appreciate your help with my daughters car. The car is an absolute sweetheart and my daughter loves it. You made buying the Honda from you a great experience and I appreciate that. I wanted my daughter o take the lead with this as it was the first car she has purchased. She said on several occasions after talking to you "Jerry's great!".
I will certainly reach out to you when I am ready for my Corvette!
Thank you again!
Best regards,
Bobby Jones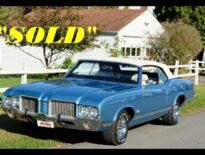 Pat Castleberry From Oklahoma
I have purchased my second auto from Jerry Coffee. My first, was a beautiful 1975 Red Corvette convertible that arrived in October of 2017. I enjoy it every warm, sunny day in Oklahoma. My second was a surprise gift for my wife, a 1971 Cutlass Supreme convertible, almost identical to her first car as a teenager, only in much better shape after Jerry restored it for her. Here is the tale, another testament to what a fine, reputable, talented dealership and restoration shop Jerry has, staffed by a magnificent team of auto professionals.
I started looking for an old cutlass convertible for my wife Laura in the spring of 2019. There are always a number of candidates for sale at any given time but I was looking for a 1971 or 1972 Nordic Blue with a white interior - not so plentiful. I finally found one at a dealer in St. Louis, Fast Lane Classic Cars. Rather than call the dealer, I called Jerry. He was instantly helpful: " Yep, I know the dealer Patrick. He has a good reputation and will shoot straight with me. I'll give him a call and see if we can strike a deal." Jerry called me back the same day with news: " Looks like it's a great car with nice paint as is, new top, and strong running motor. It could use some minor cosmetic work on the interior, engine compartment, and probably underneath."
In truth, I did not know whether Jerry did restorations. And in truth, he normally does not. I offered to Jerry that I probably fit the profile of his average buyer, i.e., older, have extra income, love classic cars, but have neither the time, tools, talent, nor facility to do any significant restoration. Would he be willing to allow me to ship the car to him to size up what work is needed, then do it? Jerry swallowed hard and said yes, but with one important proviso, " I'll make a list of what I would do to the car if I were to surprise Diane with it. I cannot give you an estimate of what it will all cost because I just don't know what I will find, but I will keep you advised, give you options, then you can choose how far you want to go."
So, we shipped the car directly to Jerry's shop in Pennsylvania. Jerry made a list of "to do's" that proved remarkably accurate in the end, and he allowed me a few of upgrades (e.g., HEI distributor, modern radio, and tilt steering wheel). Jerry ordered parts for new interior, new bushings, brakes, and countless cosmetic items both under the hood and on the chassis, then professionally installed everything. He kept me posted regularly with progress and photos, and billed me periodically as his costs climbed.
In the end, my wife had the surprise of her life. That beauty arrived after about 5 months of work. It is simply gorgeous. Jerry even helped me devise a surprise reveal at a local restaurant (had my son park it prominently outside the restaurant so she could admire it as we entered, then handed her the keys at the end of our meal. (Tears, hugs, kisses, pledges to nominate me Husband of the Year, all followed.)
Thank you again Jerry and Diane. You are marvelous. Not sure if there is a third auto in me. I already need a bigger garage!
Pat Castleberry From Oklahoma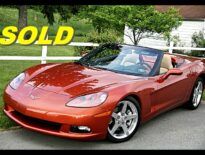 Angelo & Marge Ragonese 2005 Corvette Roadster
Hi, Jerry. Just a note to thank you for our BEAUTIFUL corvette. It is flawless, and runs like a charm. We love everything about it- the year, the color, the interior/exterior match of colors, and, of course, the low mileage. It has been a lifelong dream of Angelo's to have a beautiful Corvette, and you fulfilled that dream for him. And we also want to thank you and your wife Diane for all of your help and advice. You guys are a class act. Sincerely, Marge and Angelo Ragonese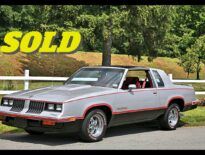 Michael Rothstein
My story begins during my high school years 1982-1986. With large eyes and shallow pockets I fell in love with 3 cars. The 1978 indy pace car Corvette, the 1984 Hurst/Olds and the 1987 Grand National. I promised myself the proverbial saying "one day". Fast forward to now and I've found 2 of the 3. Both completely original with under 20k miles. This is where Jerry and myself became connected. The final piece in my collection was the 1984 Hurst/Olds. This has been the hardest car for me to find holding true to my criteria (original and with 20k or less miles). By a stroke of luck I was searching on the internet and saw Coffee's Corvettes had my holy grail. I quickly called and spoke to Jerry. My first impression was Jerry was genuine, honest and understood the passion "car people" have regarding their cars. We scheduled a date and I drove from NY to PA. Immediately upon arrival I met Jerry and his wife Diane. We exchanged stories and slowly became what seemed like friends. We finally took a look at the Hurst/Olds and it was spot on with what was told to me on the phone and on their website. We completed the transaction and spoke some more. To be honest if it wasn't my 22nd wedding anniversary that night I would have stayed and chatted for hours. They helped me complete a collection that took over 30 years to complete but they have made me a customer for life. Their inventory and their graciousness are above all others. If your in the market for a corvette or collectible do not hesitate to call. I guarantee you will not only find what your looking for but you will also make two friends in Jerry and Diane.
Michael Rothstein DDS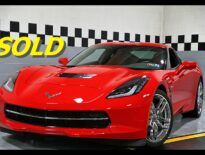 Nancy & Jim Smeltz
Thank you for making the transaction of the 2018 Corvette a smooth and uncomplicated experience. We absolutely LOVE the car!!!!!
It was certainly a pleasure meeting both you and your wife, hearing the history of your business and having a tour of your facility. We were treated like family.
We highly reccomed your superior service to anyone interested in buying a car.
Thanks so much for the pictures and video of Jim's first experience driving the car. It is a beauty!!!
Nancy & Jim Smeltz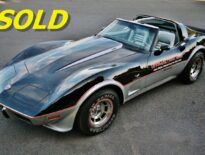 Lon From Florida
As a kid growing up in the car business, I have always wanted a 1978 Corvette Pace car and after having several Corvettes I decided the 40 year wait was over. After all this time, I knew I was after a "time capsule in the wrapper" and Jerry Coffee turned out to be the right guy with the right car! I spent nearly a month putting this deal together with Jerry and he was the most cordial person to work with as he answered numerous phone calls and emails regarding the questions I needed clarified to make this type of purchase. Not only was the car described as I pictured it with all the documentation included, Jerry also was as adamant as I to have some minor things repaired and went out of his way to make sure all turned out well. When Jerry picked me up at the airport in Old Forge to finalize the purchase, he and Diane took the time to be very hospitable and after visiting with them it would be difficult for me to go anywhere else for another collector car. Thank you both very much!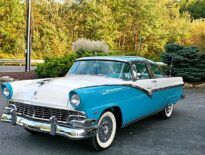 Bob Grunow
Hi Jerry,
Bob and I would like to let you know how pleased we are with the car, it is beautiful. It is exactly like it showed in the pictures so thank you for being truthful and honest. We do buy a lot of cars from the states and it is a pleasure dealing with people like you. We would definitely recommend you to anybody. If we are ever down there we would definitely look you up and if you are ever up here please stop by and see us. Bob also said you can post our email on your website.
Thank you very much,
Jen Moore
Office Manager/Freight Clerk
carcollectorcanada.com
111-2834C Millar Ave
Saskatoon SK S7K 5X7
1-306-249-0088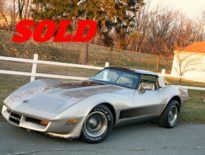 Kjeld & Lone From Denmark
Hi Jerry ☀️😎
Thanks a Lot, Lone cried the day we saw your comment on the your website. SOLD SOLD SOLD to Lone and Kjeld in Denmark......... 😁
We are so pleased to hear that it's now happens. We have waited for this moment a long time and now it feels so good... We now can't wait for August 2 🏡🚘 Holy cow, it will be the day we jumps up and down because off you guys. Hour dreams comes through 🎈☀️🛒🚗🛳️😎😍
Thanks Thanks and Thanks again you 2 beautyfull people..
May the sun shine on your way..
Lone & Kjeld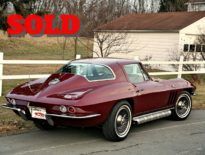 Jay From Hawaii
My Family Celebrates The Arrival Of My Gorgeous Sting Ray!!!
https://youtu.be/HLX1CeMikDY
Best Wishes, Jay From Hawaii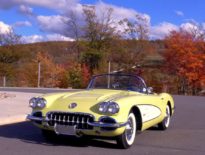 Irwin From South Florida
Irwin from South Florida:
I had been wanting a Top Flight 1958 Corvette for some time. I had gone to auctions, gone to dealers, gone to NCRS meets, and looked on the internet for years searching for the right car. Finally the right car appeared for sale on the internet in of all places Old Forge, PA. I had to look at a map to find out where in the world Old Forge PA was. Well Diane and Jerry Coffee have lived there just about their whole lives. In Old Forge, in their showroom, was a rare Panama Yellow and White 1958 Corvette which had won many awards, and also highly optioned (for a 1958 and being a Corvette anyway).
After speaking to Jerry on the phone we scheduled a day and time a week later when I would fly up from South Florida to see the car. Jerry was kind enough to pick me up from the airport, which is not far from his showroom, but still a very nice gesture. And he drove me back too.
The car was everything advertised. It was a multiple Top Flight award winner fully restored car which was absolutely stunning. There were binders with complete documentation of every previous owner and all the different top awards the car had won. Jerry then patiently helped me authenticate every number on the car for me to feel comfortable I was potentially (we hadn't made a deal yet) buying a real numbers matching Top Flight award winning 1958 Corvette.
Well I did buy the Corvette. It was a dream come true. I have wanted a 1958 Corvette since I was a little boy and now this beautiful car was mine.
After a test drive in the car, Jerry splurged and bought us a few different local pizza's and beer to celebrate my purchase. Who knew Old Forge PA is the pizza Mecca Jerry had been describing.
Jerry, and his lovely wife Diane help with the paperwork, and the arrangements to transport the car down to South Florida. BTW Diane makes a mean cup of hot chocolate. Ask her about it if you're there in the winter as I was.
The car arrived in South Florida and boy was I excited. After having and driving the car for a few days I noticed I had a small radiator drip which then turned into a large leak. It turned out prior to my ownership, someone must have known the car had a radiator leaked, and had put a sealant in to stop the leak; instead of doing a proper repair. I sent Jerry an email to apprise him of the situation and he was quick to say this was nothing his shop would condone and then offered to pay for the radiator repairs. True to his word, when the repairs were done I forwarded to him the invoice which was promptly paid for in full. I ask any of you reading this testament; who gives someone their word in 2018, and then follows through? Jerry and Diane do. Would I buy another classic car from them; you bet. I give you my word!!!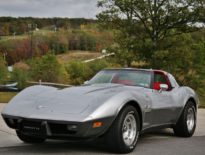 Tyler From Canada
From the moment I made contact with Coffees Corvettes, I knew that I had made the right decision to buy from there. Beyond the great line-up of 'vettes, there are great people. I purchased a 78 'vette and it was exactly as I hoped for and exactly as called. I purchased it sight un-seen, wired the money and had it shipped home. Jerry made time to answer any questions I had along the way and there were certainly plenty of them. Thanks to him and his making the purchase of my 'vette seamless. I couldn't be happier! Thank you so much, its exactly as you described and has already brought back so many memories. Bring on summer!!!
Tyler from Canada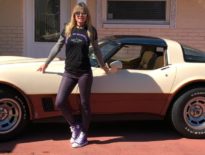 Taylor MaKenzie From Florida & California
                                             1981 Corvette - Cream and Bronze
I was browsing the internet looking to buy my all time favorite old school C3 body style Corvette and wanted something a little unique.  Saw this not so common two (2) tone color:  cream and bronze 1981 Corvette Coupe at Coffee's Corvettes owned by the dynamic duo, husband and wife team, Jerry and Diane Coffee .

I was blown away by the cherry condition it was in and had Jerry send me a video of the car with the engine running since I was an out-of-state buyer. Within a week, the car was shipped to my house and it was exactly what I had imagined. Based on my experience, they sell the
creme de la creme
of Sports and Classic Cars.
"So when you're in the market for your next driving toy, this is sure the place to go." "No doubt about it!!!"  
Thanks!!!💫
Taylor MaKenzie
https://www.facebook.com/taylormakenzie007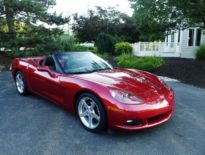 Tim & Janet From New Jersey
After initial emails, we met Jerry and Diane at their store to see & drive what was about to become our new Corvette. She was like new with only 5,000 miles, gorgeous, so responsive & had everything I wanted in options. You could say she had just about everything you can get on a new car.
Our C6 Convertible is a stunning Magnetic Red that certainly stands out on the road. She's loaded with AC, auto trans., power windows, 6 CD changer, HUD, navigation, heated seats, run flats, XM radio, On-Star capable, and more. I love the power top and how the lines of the car are so clean when the roof is down.
Jerry had the car delivered right to our door. The transporter was very professional as well.
I've had a few technical questions about the car since our purchase and Jerry has always been helpful in answering them. We absolutely recommend buying your next Corvette from Jerry & Diane at Coffees.  
Tim & Janet from New Jersey.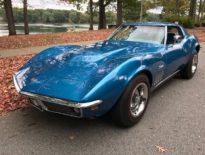 Harley From Christiana, Pa
 "It's been a life-long dream of mine to own a Stingray, but never thought it could actually happen.  Now that I'm retired, I got very serious about obtaining one.  Enter Jerry.  Having never purchased a classic car of any sort, I had a ton of (dumb) questions.  Jerry answered them all expeditiously, in language I could understand and with unbelievable patience.  He has simply been amazing, while guiding me through the entire process carefully, efficiently and with great integrity.  The '69 Stingray he delivered was exactly as described... even better than I had anticipated."
"I simply cannot say enough good about this entire process.  From locating what I was looking for, through payment and delivery, I was just amazed.  Jerry is extremely knowledgeable about Corvettes and very professional, yet warm and honest. Both he and Diane are so down to earth and accommodating...my wife and I felt like we gained new friends when we traveled to Old Forge to see my "dream come true" Stingray."
" I feel so fortunate for this experience, thank you both again for all your efforts."
"I recommend Coffee's Corvettes without any reservation whatsoever to anyone looking to purchase their classic car."
Harley
From Christiana, Pennsylvania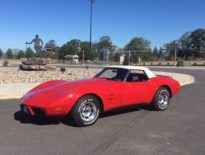 Patrick From Oklahoma
Oklahoma
TO A FUTURE INTERNET CLASSIC AUTO BUYER:
So, after shopping carefully over the web, you have found the Classic American Muscle Car of your dreams at Jerry and Diane Coffee's website, www.coffeescorvettes.com . You have pored meticulously over every photo the Coffees have provided over the web, and have examined with a lawyer's precision every jot and tittle of the Coffees' description of your prized auto. You may have even spoken to Jerry Coffee for additional details. Now you wonder, "Can I trust the Coffees?" "Are they reputable, honorable people?" "Can I send them money for a car, sight unseen, and trust it is in the condition they represent, or must I travel to Pennsylvania and verify on site personally or through an agent?" Answers: (Unequivocally in order) "YES," "YES," and "Travel to Pennsylvania if you wish and inspect the car yourself or through an agent, or feel absolutely confident trusting the Coffees' word."
I am today the proud, overjoyed, owner of a 1975 Mille Miglia Red Corvette Convertible purchased from Jerry and Diane Coffee. On Sunday, October 29, 2017, my dream car arrived at my home in Edmond, Oklahoma, in a covered auto hauler (that Jerry arranged for me) in perfect order, in the exact condition the Coffees assured me the car was in. It was the culmination of 2½ months of interaction with the Coffees. I negotiated a fair market price for my car, received via FedEx purchase documents, and wired the purchase money to the Coffees' bank. Previously, I had asked Jerry Coffee to send me additional pictures, to start the car and to send me a video, to answer a number of additional questions via email, text, and telephone, all the while receiving prompt, accurate, and expert answers to all queries. I grew to like and trust Jerry a lot. He is a long-time classic car dealer, with a wealth of glowing testimonials on his website, and a car nut. I arranged with Jerry to repaint the car, to replace the convertible top, and to replace a few chrome items. Jerry and his mechanics did everything on time and on budget, supplying me with much-welcomed, periodic progress photos.
In closing, deal with Jerry and Diane Coffee with complete and unwavering confidence that you have found a special classic car dealer. The Coffees are smart, honest, and gifted in the realm of Classic American Muscle. Shop freely, happily, and await the arrival of your dream car. Happy Motoring.
       Patrick Castleberry
Edmond, Oklahoma
[email protected]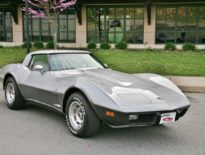 Jiri Toman From The Czech Republic, Europe
Europe
Jerry,
"I have to tell you thanks a lot for grandiose Corvette Anniversary 78!! This is incredible condition! Very rare car! Maybe, this is the best car which I have bought anytime!"
Jiri Toman, Ing.
Director of Sale / Owner 
-------------------------------------
Toman Motors s.r.o.
US Classic Cars Import
The Czech Republic, Europe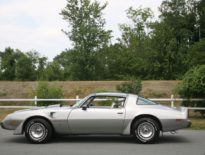 Dr. Ronda
Wisconsin
Subject: Ronda's story
Hi Ronda, just curious to learn how you pulled off the big surprise?
"Oh yeah! Took him to dinner. Earlier in the day I got the TransAm out of dry storage and parked it at the end space at the parking lot so he would see it as we pulled in---which he immediately did. He parked and made a beeline for it and ogled it for about 25 minutes talking about how beautiful it was, straight lines, clean, etc etc. He even talked about "how lucky the guy was " seeing that "he just got rose temp plates". As we left, the host called his name out in the restaurant foyer stating he "had dropped his keys". And the rest is history. I enjoyed being "the best wife ever for about a week!!"😊❤
Best wishes, ️ Doctor Ronda from Wisconsin.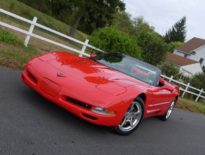 Helge From Norway
Norway
Early this year I was looking for a C5 corvette for import to Norway. Not knowing any dealers it could be a lottery. After searching and checking ,I made the contact with Jerry at Coffee's Corvettes about a red 98 convertible And I have to say: from the first contact and through the process, with payment, delivery to the port as schedueld, and not the least, when the car arrived in Norway ,it was better then described. Nearly a new 16 year old car. Jerry seems more like a friend then a car dealer. Wish to satisfy his customers. I will be buying from him again.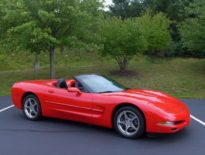 Guttorm From Sweden
Sweden
Dear Jerry,
Sorry that I have not wrote to you faster. It has been a busy time for me now taking care of the farm. We picked the Corvette up in Drammen 12th of August and drove her home in rain. But I enjoyed my ride.
I washed her and looked over her, and she is a real beauty. Everything looks like new. I`m very happy with my new Corvette. There is only one small thing. I think the tires are too noisy. Maybe other tires better than the run flats? What do you think about it. Do you have some tires to recommend? Now she is garaged with my Impala waiting for registration. Here is a picture of the Corvette at home in Sweden this summer.
Best Regards, Guttorm from Sweden, a very satisfied Corvette Owner!!!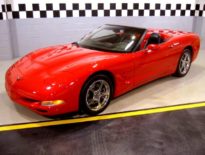 In these times of dishonesty, breach, corruption and unreliable people, it was very comforting to
find someone honest, considerate and a very professional salesman who has superior knowledge in the
field of Chevrolet Corvettes, new and old.
It was in our search for the perfect Corvette when informed by a friend that he had purchased a
Corvette from Mr. Coffee and was very satisfied with the car, the price and the total experience.
Upon our arrival at Coffee's Corvette "Heaven" we found a minimum of fifty Corvettes. Years
ranging from very old to very new, all in very good condition. Housed inside, under cover ready to drive
home (and we did drive one home).
Mr. Coffee treated us like long lost friends, not potential customers; he spent a long time with
us at two different locations searching for our Corvette with no high pressure sales techniques used.
On this day we purchased a 2001 Corvette convertible, (torch red), the car of our dreams, clean
as a pin, low mileage at a very reasonable price, as a matter of fact he meet our price.
At Coffee's you are greeted and treated with respect upon arrival and departure regardless if
you purchase a car or not. Thanks Jerry.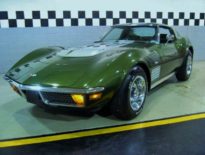 Rod From Pennsylvania
Pennsylvania
Jerry,
It is probably not too often that someone receives a testimonial a year after purchasing a vehicle, but in your case, I wouldn't be surprised if it is a regular occurrence! Throughout the year, I have reached out to Jerry several times with questions or just sending updates and pictures of "The Beast". Jerry has been there every time. In November I contacted Jerry to have some routine work done on "The Beast". He took it upon himself to coordinate shipping the car to his location for the work. Jerry told me from the very first phone call that he stands behind his
cars and his honest reputation. I am here to tell everyone this is 100% true! My experience with Jerry and his staff has been unsurpassed and I only wish more people and business were like him. I recommend Jerry and Coffees Corvettes with the highest recommendation and Jerry, please feel free to have anyone contact me for a recommendation. I wish Coffees was closer to my home, so I could visit regularly as I feel that I have not only found a true, honest and valued dealer, but also a friend and if you meet Jerry, you'll feel the same way.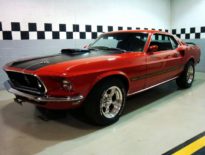 Dave From New Jersey
New Jersey
Hi Jerry!!!
I was getting gas today and had two people come up to me and ask if they could take pictures. I was more than happy to smile. I can't tell you what a great purchase this car was. Aside from the investment potential this is just a fabulous driving car. As I've told you before, I'm not a very "mechanical" or "hands on" type person. But everybody, and I really mean everybody, who has seen this car has made it a point to come up to me and tell me they have never seen a car as perfectly restored as my Mustang. Then I show them under the hood and they just fall apart.
Thanks again for all your help.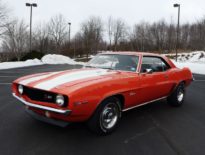 Rich From Pennsylvania
Pennsylvania
Hi Jerry,
We had a great ride home Friday, no rain. Fuel pump is working great now that I watch for the switch. When the sun is out, I have been driving my '69 Camaro. Lots of waves, thumbs up, and jealous co workers. Want to thank you & Diane for a great buying experience.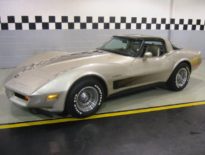 Carl & Cindi From Texas
Texas
I'm writing this a month after receiving my 1982 Collector's Edition Corvette that my wife
and I purchased from Jerry & Diane Coffee.
Almost all used car sales people will tell you anything to get you to buy their cars. Jerry
and his team will tell you all the GOOD things about the car, as well as the BAD things.
In this day and time that is RARE. I feel that Jerry is one of the very few sales people
left THAT WILL TELL YOU LIKE IT IS. If you need more photos of areas of the car, he
will do his best to make the buyer happy. I feel that Jerry looks for cars that
are ultra clean, one or two owners, so that the cars he sells are at the HIGHEST
QUALITY POSSIBLE. He knows that his buyers are very hard to please, as well as
very knowledgeable about what they are looking for.
Like I said in the beginning, I'm writing this a month after buying. (How often have you
read that in a testimonial?) After getting The 1982 Collector's Edition Corvette home
and finally getting a good look at it I found that the car was far beyond what I was
hoping for.
I'm a purest when it comes to Corvettes and Jerry told me that this car was as close to
original that he has seen in a long time, I thought it was a sales pitch. But Jerry didn't lie.
The car still has lots of the original tag and parts still in place.
So, if you are looking for a honest salesmen, then you are at the right place. Jerry, his
wife Diane and their team are one of the best I have talked to or dealt with in a long
time. So PLEASE spend some time getting to know Jerry, Diane and their team when
looking to buy your next dream car.
HAPPY MOTORING AND STAY SAFE!!!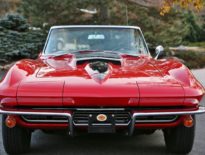 John & Donna From New England
New England
We recently purchased a beautiful Corvette from Coffee's Corvettes and we want to say how easy Jerry and Diane made the transaction for us. The car is just as advertised, and it's just what we wanted! Jerry helped us with arrangements to have the car transported to our home, and he even helped us in our search for extra parts for the car (not that the car needed them)! We would say that Coffee's Corvettes is a top notch dealer, and we definitely recommend this company
to anyone looking for a first class Corvette!
Thanks, Jerry and Diane!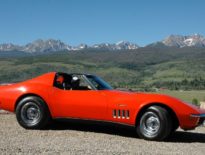 Ken & Lori From Colorado
Colorado
My wife and I purchased a 1969, 427 Stingray from Jerry and Diane. I must say, the experience was a great pleasure! I have never purchased a car like this from an out of state dealer but I will certainly deal with Jerry and Diane again in the future. Their knowledge, professionalism, attitude, honesty, reliability and responsiveness was/is exemplary! Nice to see people like this still exist! I would certainly recommend them to anyone who is in the market. 
Ken & Lori from Colorado.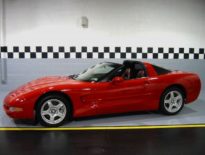 Mark From Pennsylvania
Harrisburg, Pennsylvania
Many years ago my parents always talked about how good the old days were. People smiled and said hello. Honesty and Integrity were the foundations of trust. Now as I am approaching age 60 I want to say that there is a company that definitely displays those old fashion values. I was looking for a newer Corvette to replace my old 1971. I ran across, on a web search, Coffees Corvettes. I contacted the owner Jerry Coffee and the rest is history. He worked with me, and accommodated me by returning calls, e-mails, and answering any questions I might have. I purchased the car sight unseen. Dealing with Jerry was like dealing with a family member. On the day my car was to be delivered he called me and said "the weather is kind of bad" I will ship it to you at no additional cost, in an enclosed transport" What can I say Coffees Corvettes has my business and he even said, should I decide to upgrade down the road, that he will buy my Vette back. You can't ask for anything more. His business is OUTSTANDING.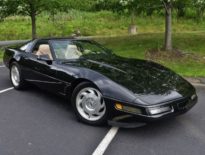 Mickey From New York
New York
Hi Jerry,
Thanks again for a great experience. You sure know how to treat your customers and I greatly appreciate it! My wife and I absolutely love the car – we had so much fun this past Sunday, driving around town with the Sun on our heads and a huge smile on our face!
Have a great spring and I hope we can keep in touch….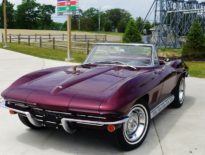 Paul From the UK
Ireland
Hi Jerry,
Car is now in the UK and I got my first look at her today. I'm extremely pleased with what I saw and the condition inside and out and underneath exceeded what I was expecting. Even covered in travel dust it looked as good as or even better than the photos. Counting down the days for registration now, approx 3 weeks.
Thanks again, Paul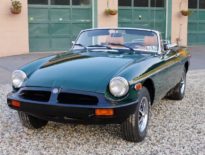 Ray From Pennsylvania
Pennsylvania
Hi Jerry,
The MGB rode great on its trip to Berwick. It's going to be a great fun in the sun car! Thank you for everything. My friend and I both commented on how that was probably one of the lowest price cars you'll ever move off your lot. But, you treated me as well as any of your customers. Thank You!
Hopefully I'll be back some day to ride off in a Corvette.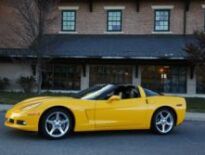 Scott & Jill From Pennsylvania
Pennsylvania
Hi Jerry,
Jill and I wanted to thank you and your wife for the fantastic car buying experience. I have always wanted a corvette and you and your wife made it so easy for me to pull the trigger on the purchase. From the first time we met you both we felt like we were dealing with family and made our experience such a positive one. I also want to thank you for allowing me to keep my car on your showroom for 3 months while I was renovating my garage. I'm sure no one else would have allowed my to do that. I know if I ever buy another corvette there is only one place I will be visiting, Coffee's Corvettes!!!!
Jerry, I can't thank you enough for selling me my dream car and making the experience so positive I tell everyone there is only one place to buy a Corvette. If you are ever in our neighborhood please stop in and see my Corvette's new home.
Thank you again and tell Diane we said hello.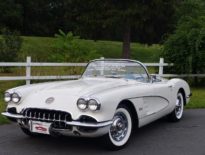 Joe & Pat From Long Island, New York
East Hampton, NY
Hi Jerry & Diane, must take time to thank you for your kindness and professionalism for the way Pat & I were treated at your showroom/shop when we purchased our beautiful Ermine White/ Frost Blue 1960 Corvette. I had an issue with some old gas from not being driven, but she's running good now, just the way she left the factory many years ago. We've gotten so many compliments and thumbs up driving around to shows and parades, even won some trophies this summer. We were sad to let our '69 coupe go, but it was time for someone else to enjoy that amazing car. I'm sure Ken & Lori will enjoy her as much as we did. Once again we thank you for being so honest and sincere. Your whole staff was wonderful with us also. Happy Motoring!!!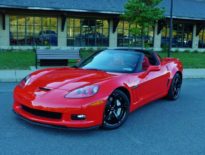 Dan From Indiana
Indiana
Thank you Jerry. I did run into some weather on the trip home, but I enjoyed the trip none the less. Thank you again for all your help with this purchase, and I truly enjoyed meeting you and your wife. I will for sure send people your way if they are looking for a Corvette.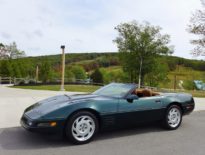 Paul From Pennsylvania
Pennsylvania
Hello Jerry and Diane,
It was a pleasure meeting both of you yesterday ! Your hospitality and time taken while making the decision to purchase the Corvette was one of the most pleasurable I've had in many years buying a car.
As a car guy I loved having the ability to get a close look at all the iconic vehicles in your collection as well as the conversation and history on each. Most importantly, the trust, confidence & fairness in negotiation that I felt were the deciding factors to move forward with buying the car. I look forward to building upon this relationship. Per our conversation Jerry, anytime you would like an additional pair of hands assisting you at local car shows, please call me. I would love to be part of that.
I truly enjoyed the experience!